Know Your Parents Are OK When You're Away
Receive Alerts When It Matters

For The First Time Ever It's Possible To Get Real Health Insights Sent Direct To Your Smart Phone - In Real Time!
Tracks your heart rate with no contact or wearables

Live data sent to phone app on both iOS & Android devices

Get text alerts for abnormal events in less than a minute

Heart Rate Variability, Stress Monitoring & Respiration Rate Tracking

All data saved for up to six months for long term health tracking

Works with Alexa voice activated commands

Easy setup
Free App: Real-Time Stats Stats Anytime Anywhere
Download the Cardi/o® App at Apple Store or Google Play.
Connect up to 3 sensors to your household's Cardi/o® Cloud Plan for household coverage under one Plan.
Share wellness goals by adding users to your account.
Alexa, What Is Dad's Heart Rate?
Pair your Cardi/o® sensor with an Amazon Echo Show for larger viewing display and voice commands. Add more convenience with the "My Cardi/o®" skill found on any Alexa-smart device by Amazon. Create your own Cardi/o® "zone" and step into easy touchless well checks in your own home. (Amazon devices sold separately).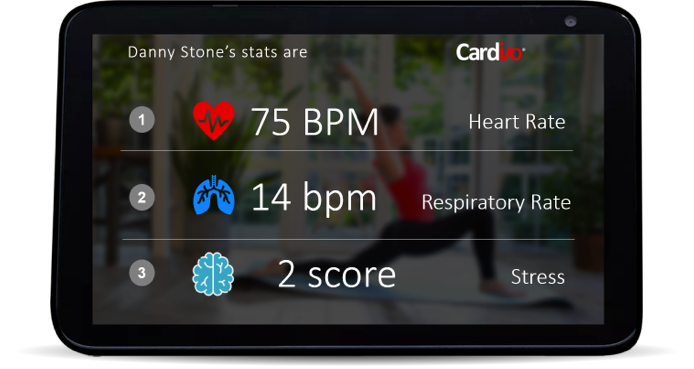 price excludes tax and delivery
**Free 90 Days of Premium Services
*** 30 Day return policy
IN STOCK NOW - Buy while Supplies Last
Supply limitation due to COVID-19 shortages
Device Requires Cardio.io App, available in both Apple and Android App Stores.
Please note that Text Alerts & 6 Month Data Storage are only available with a premium service plan. Each Cardio.io Device comes with 90 Days Premium Service free.
Cardi/o sensors are not medical devices. Heart rate data is not intended to be used for medical purposes nor is it intended to diagnose, treat, cure, or prevent any disease or condition. This feature only alerts you when your heart rate exceeds or drops below a certain number of beats per minute, as selected by the user, after a period of inactivity. This feature does not notify you of any potential heart condition and is not intended to treat or diagnose any medical condition or disease. Always refer to your health care provider for any heart-related issues. See cardio.io/pages/heart-rate-tracking-and-accuracy.